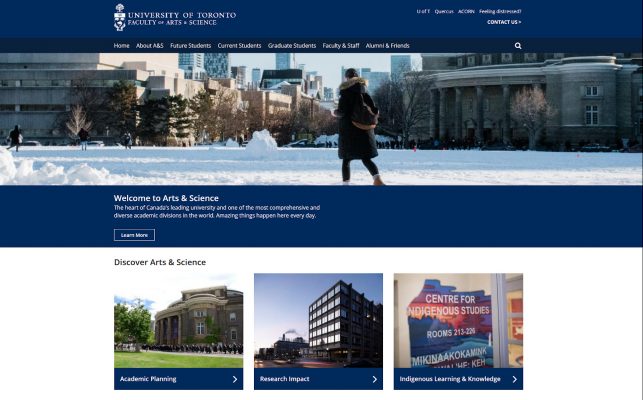 A few years ago I was invited to consult on a website build. A person at University of Toronto's communications department (we worked together on a few projects before) needed some help digitizing an annual brochure that her team produced – the Art Science Effect. It was a print product for a long time, and the department thought it was time to digitize and put it online, maybe track what's being read, what's shared, and how it impacts student recruitment, volunteering and philanthropy efforts.
What initially looked like a quick 'fly-in-and-fly-out' web project – has turned into a multi-year learning process – and I'm so glad I didn't turn this opportunity down. We've quickly digitized the brochure and put up the latest issue online (it was late 2016 at the time). But as I helped the communications team assemble web pages, we ran into other, bigger technology issues. No surprise there – UofT is a massive institution, of course there will be legacy technology issues, various software and hardware co-dependencies, and of course – legacy processes. That wasn't the surprising part – I was completely ready for those bottlenecks.
What has surprised me – and is still true to this day – is the willingness of both the department heads, and the IT support teams to keep tackling those issues, and to keep me in the loop of these tasks. Yes, I was just a consultant (and my current status with UofT is still an occasional consultant), but the right people followed up on my questions, and replied to my way-out-of-scope technology recommendations – to make a bit of a change. Regardless of my status or minimal involvement with the university. And this practice has continued.
A few months after I finished this particular project, two more UofT department heads have reached out – Faculty of Arts and Science News and Geography Department. Once again, small web projects, some SEO improvements, UX fixes, team training for more effective content production and distribution – and once again, in the process of working together, we have discovered a few more technology issues that, if fixed, can be applied to other websites, other departments.
This time we got full support of IT team, and the next couple of leads/referrals – came from UofT tech team. They were having problems with some of the very old websites – data migration issues, non-existent UX, not to mention mobile-unfriendliest webpages. There was a Biologial Sciences department with lots of public-facing academic work, and student-facing tools and resources – but awful login/permissions/access system that needed to be streamlined; there was a Tayinat Archeological Project that had lots of new discoveries in early 2019 – but their website was about 10 years old, so sending the press and other scientists to that old site was out of the question – we needed to freshen things up; there was a Sidney Smith Student Portal – with a wealth of information, real-time assistance, tools, bookings, FAQs – which just need to be structured better, maintained quicker, and be mobile friendly for its target audience; and there was Department of Economics – that just wanted to freshen up its student outreach and engagement efforts.
All these projects – came from different university teams, with different types of content, and different target audiences. And extremely different technology stacks. They had a couple of things in common. First – and I'll never get tired of saying this – they trusted my knowledge and reached out through referral or based on previous work. That means a lot to me on a professional level. It's not enough for me to just 'land' your project, I intend to deliver as promised, and if possible, to overdeliver, so you reach out in the future directly, or recommend my work to others. Thanks to my many-many UofT contacts and teams – for continuing the tradition, and sending me new intros and new questions. It's a joy.
The other thing they all had in common – willingness to try out something different, to test a new process, or a new technology. Ultimately, a willingness to change processes. Willingness to change old habits, that go beyond technology. And that's worth so much – especially with today's technology – which not only evolves very fast, it also can let us down, crash, be hacked, be manipulated. Back when I started with UofT, in the fall of 2016, I thought it would just be one (or more) web updates here and there, with some training and team education. Today, these teams reach out to me on regular basis, for tech advice that evolved from 'can you fix THIS for us?', to 'how would YOU fix this for us?', and even 'how should THIS work better?' – and I'm glad to have been a part of that evolution of thinking.
Technology can do so much for us, and we often take that shortcut, and forget about it, and stick with a certain way of doing things. It's so refreshing to see teams willing to update – not just their websites, technology and content – but also their workflow, and their strategies.
Thanks, UofT teams – for trusting me with your evolution, and for letting me learn so much along the way. Looking forward to more consulting projects with you.