I'm going to geek out a little and ramble, so please bear with me (above photo – promo image from Paul McCartney's current tour).
Today is an important day – my son (12) and I are going to see Paul McCartney live in concert. He doesn't know yet, but I think he'll flip out when he finds out. I can't wait to see his face.
A bit of history here – I practically grew up on Beatles and Wings albums, back in Russia. Of course most of the recordings we had were bootlegs. The iron curtain would not let any Western music officially enter the country, so for years my parents' generation was trading reel-to-reels, and eventually, in mid 80s – cassettes. And even the stuff they could get was softer, more 'acceptable' rock. Stones, Billy Joel, Floyd – was unofficially banned. We had plenty of Boney M and ABBA, but rock was mostly out. The upside of course, is that I got to discover all this musical magic at a much later time, as an immigrant teenager.
I still remember back in Russia, when i was 8 or 9, accidentally taping over the entire Band on the Run album (with some Soviet pop), and only leaving behind about a minute of the last song – Nineteen Hundred and Eighty Five (Youtube). I don't remember hearing that album before (or if I did, it faded into childhood mist), but that last section of the track – was an enigma. That insane cacophony of a huge orchestra, building to a crescendo, with a relentless drum beat in the background, reaching a climax (before I had any inkling of an idea what a climax is), and then fading away into a clear, 3-4 instrument finale of 'Band on the Run' – it blew my mind. What the hell was that – what 'band' are they singing about, and what happens to the melody in the beginning? Doesn't it switch tone, and rhythm, too? It was awesome, magnetic – but I couldn't hear this track fully until much later. Safe to say that I haven't heard the Beatles' 'A Day in the Life (Youtube)' until much later either. We had other bootlegs – with weird song orders, with false starts and strange fade-outs – I don't know where Dad got those – but it's all we had.

Later, when we emigrated to Israel, I was already 14, and as soon as I started earning some money, a portion of my first paycheck went to buy a 'Band on the Run' cassette. Finally, after years of trying to figure out what the hell that album, and specifically that track were about – I got it. I probably listened to it 3-4 times without getting up from the bed in my room. It rocked back when I was 14, and it still remains one of my fave Paul McCartney records. I remember it was a hot summer day, and this album is my go-to summer driving/biking/camping/gardening album. Mamunia nails it with a long-overdue rain story.
When we finally came to Canada, later that year Paul McCartney released Off the Ground. I've already heard (and owned) a lot more cassettes, was just getting into CDs (remember Columbia House?) and the few videos I saw (from Flowers in the Dirt, Pipes of Peace, Press to Play) were stored in my memory as little audio-visual treasures. And of course, the classic Beatles recordings and clips. This was before Youtube, kids. I remember somehow obtaining a VHS with Give My Regards, and wearing it out – while trying to learn some unusual phrases spoken with a cockney accent. No more Lonely Nights, Ballroom Dancing – Linda playing in the background… He loved Linda – she was his Muse in every sense. But I'm rambling. In summer of '93 Paul came to Toronto with that tour – and I got A Ticket. Couldn't afford to get everyone else in the family – yes, $39 bucks on a miscellaneous item – was not in the budget. My parents drove me to Exhibition Stadium (it's been torn down and rebuilt since), and because it was cheaper to just stay around and wait for me, than drive back – they stayed nearby, in the parking lot.
My seat was in the back of the back, so I gradually moved forward, as I noticed empty seats. Always, always try to get ahead – we're not given many opportunities, and you gotta take what you can. I loved that evening: seeing the massive, packed stadium, all on my own – seeing the fans react to decades-old tunes; moving ahead and getting better views, better vibe, being in the middle of it, soaking all of it up. "When I Was Just Seventeen, You Know What I Mean…" And then I saw my family – on the other side of the venue, doing the same thing. Dad somehow managed to haggle with scalpers and get 3 more tickets for Mom and Sis, for next to nothing, long after the gates have closed, and they were also moving about, trying to get better seats. We never did connect – the crowd was too big, and if you remember Exhibition Stadium, navigating there during packed concerts was a nightmare. But as soon as we got out of the venue and met by the car, we breathlessly exchanged our experiences. Paul! Linda! A Live Beatle!!! How did you manage to get in? How did you get so close to the stage? It was a great day, and we made the best of it, literally. Our first (but not last) concert in this new country, where we're still trying to find our footing. It was amazing! Hope of Deliverance from the Darkness that Surrounds Us (Youtube).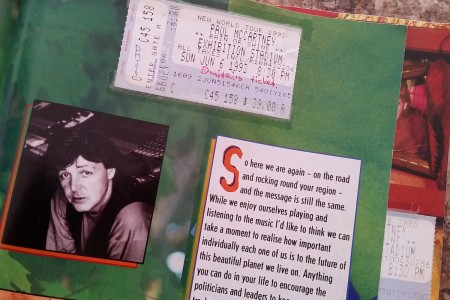 I've seen Paul in concert a few times since then. He always, always brings his best. Pipes during Kintyre, and fireworks/pyrotechnics during Live and Let Die. A solo spotlight on a stool for Yesterday, and a massive crowd chant with a baby grand – for Hey Jude. One, sometimes two encores. Switching up guitars, doing a little bit on drums, showcasing new acts, interacting with the crowd – which is always, always ecstatic. He leaves a piece of himself on that stage, and I'm sure he feeds off the audience as well. It's an incredible experience, and I'm looking forward to seeing it with my son tonite.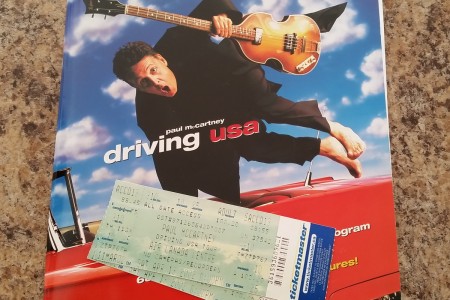 Which makes tonite a little bittersweet. I had this dream, this master plan to get tickets for everyone in the family. Dad, Mom, all our kids – and have 3 generations of Beniaminovs experience A Live Beatle together. Maybe even holding hands (and crying) – because of how much that music meant to us over the years, in different countries and circumstances. The last Macca tour did stop in Toronto, but the tickets were sold out in minutes, I didn't even have a chance. That dream died a pretty quick death.
This year – funny story – I was driving through California when tickets went on sale, and if you ever tried to use ticketmaster app/website on mobile, on the road, in the mountains – you probably know what hell feels like. Even more funny, that same week when I was around San Fran (back in April), Paul was already in Fresno with his tour. I'd like to imagine that his plane with the band and gear was flying over my wife and I, as we were exploring The West Coast. I did manage to get 2 second-hand tickets. Just my son and I. Can't blow family budget on insanely priced tickets. It's just too much.
You probably already know why I named my son Paul. What can I say, I'm a fan, and I'm not ashamed of it. Paul McCartney has always been a True Artist to me – someone who can tell a compelling story with his lyrics or music – that will stay with you for years. And it's a story you'll want to share, play, sing to others. I often sing Beatles/Macca songs to myself, and recently, when I noticed my kids started singing along – I knew they'll be allright.
I'm looking forward to a packed venue tonite, multi generations of fans, losing my voice while singing, and then telling all of that again to the rest of my family. While it may be 'One on One' Tour in title only – that's the thing about good musicians – they make you feel like you're the only one in the audience. You can (and should) plan big, but always, always take the opportunities you get – and make the most of them. That's what makes amazing memories.
Exhausting read, right? I think it's appropriate to end with Let It Be (Youtube):