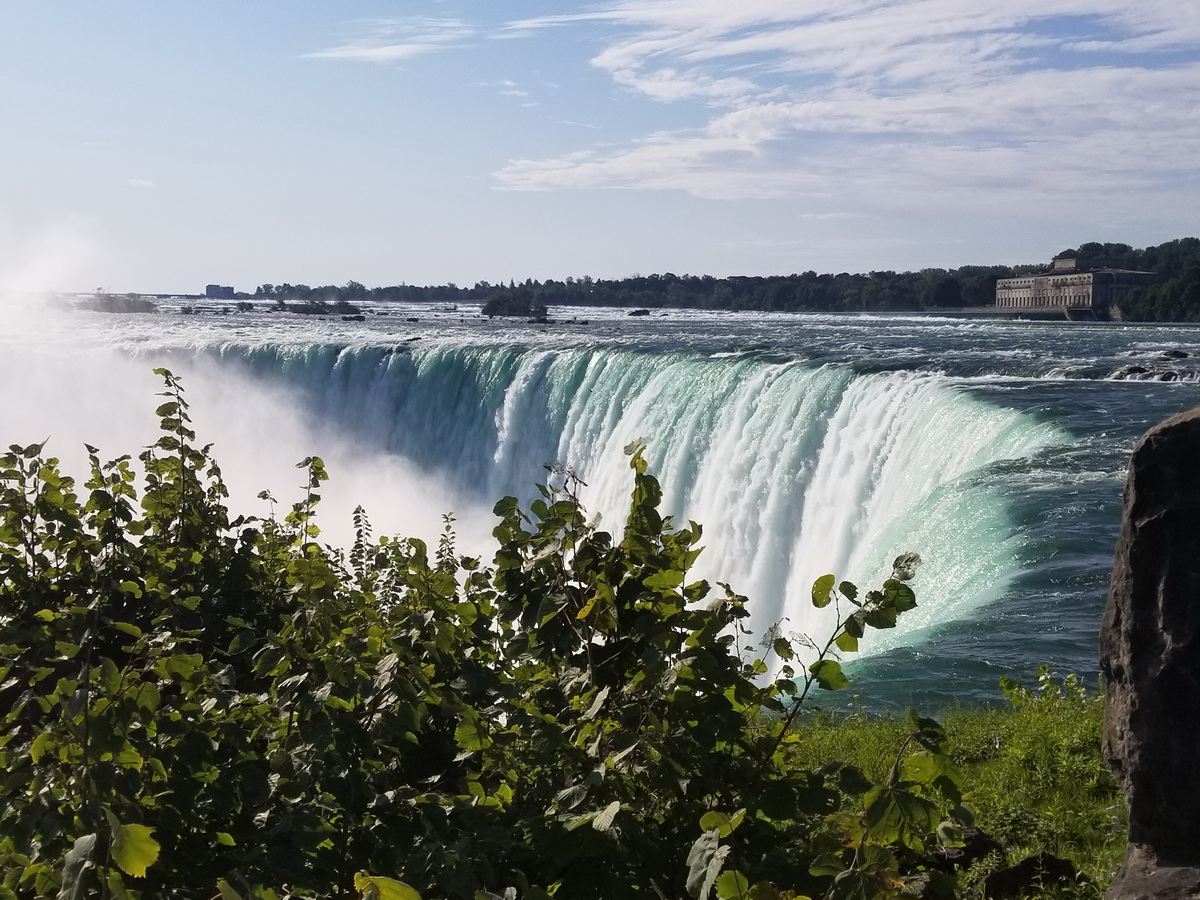 Long story short, I made it. The title pretty much spells it out. My third attempt – was ultimately successful. End of story.
But if you have a few of minutes, here's how it went down. A couple of weeks after I rode with a friend, I decided to go again. This time – solo. And this time – taking all the extra precautions that I would need. An extra power bar (chewable). A fully charged power bar (for the phone). And for the first time – sun screen. Yes, some lessons take a while to learn – I slathered on some sunscreen – better late than never.
Starting from Union station, going west, crossing the Skyway bridge, turning south, and eventually south-east. Old hat. It was my third time along the route, but the little voice in my head was already going 'been there, done that; easy-peasy'. Stupid ego.
Record #1 – getting to the bridge in under 2 hours, and way before the mid-morning heat starts (9:20 or so). Record #2 – getting to Stoney Creek long before noon, and finding a couple of shaded, quiet shortcuts, instead of riding on an exposed, loud service road. Eventually I got to the plateau where I could keep a steady pace, not get too winded, still have plenty of food and water, and I could set up the map voice instructions, to guide me through the last stretch. Since I've never done that part by bike or car (it zig-zags by county roads), I just turned it on and followed blindly.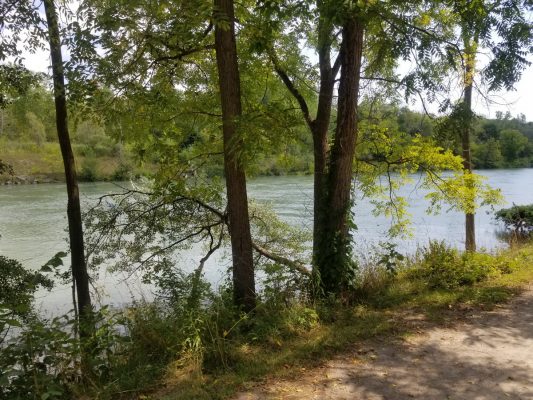 At first, it was pretty cool. I left Lakeshore and biked inland, passing St. Catharines, getting on a beautiful, shaded Merritt trail, which goes along the Twelve Mile Creek. It got me to Glendale, and eventually, into Thorold.
Big mistake – the map brought me to a dead end. Technically, there was a way to get across the tunnel (HWY 58, I believe), but a part of the tunnel (including the pedestrian/bike lane) was under construction that weekend, and no way around it. Obviously, going through the tunnel via HWY was out of the question – but if you have to ask – yes, I did think about it for a second or two. And my mileage was already showing 130k. I'm peaking, it's the middle of afternoon – and I have to cross the Welland channel somehow.
That's when I called for backup. Yes, there was a plan B (if you know me at all, there's always a plan B). My wife was going to pick me up on the way to Niagara, if I get stuck. Unfortunately, she also got stuck in traffic, still in the city. She was dropping off one of her paintings in Oakville, and either took the wrong turn, or relied on incorrect traffic info – she was far from me, and most importantly, still with the painting. Me, sitting around and waiting for a pickup that's at least an hour away – was out of the question.
So I got really pissed (or rather, disappointed that sometimes things go out of control, no matter how well you plan), and angrily started back-tracking to Glendale, towards Niagara Teaching College. It's an alternate route, a little longer, and a little more uphill. It was probably that anger that kept driving me in the last stretch. That, and a glass of icy cold cider, courtesy of Niagara Teaching Winery.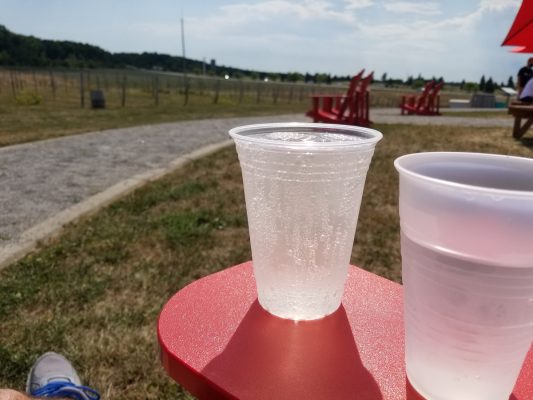 I sat on their patio, and caught my breath, sipping a well-deserved drink, and called my wife again. "Where are you?" "At Teaching Winery." "Don't bike anymore, I'll come and get you." Sure, but how far away are you?" "I'm still stuck in QEW; dropped off the painting, the woman loved the personal delivery service, I'm still on the highway, just over the bridge." "No, that means you're at least 30 minutes away, maybe more; I can't sit still that long; let me finish the drink and I'll continue towards Niagara." "Are you sure?" "No, but i have more strength left, I want to see this through; follow my 'bike-adjusted' route, and eventually you'll catch up to me". "You're crazy!" "I love you, I'm fine".
When I hung up, the cider was almost finished. A couple of gulps, refilled water bottles, my wholehearted thanks to the staff, I'm hopping on the bike again. It's 30 degrees, almost 3pm, and I have about 12k to go to Niagara Falls. Taylor road, uphill, through more fields. No more lakes, creeks or bike trails. Open country roads. Oof.
That last stretch was tough. Seeing the hotel roofs in the distance really helped, gave me a second (or likely fourth) wind. Slowly zig-zagging towards Lundy lane, and then Stanley avenue, seeing the suburbs, plazas, more cars, more gas stations, civilization – really gave the extra bolt of energy to push the pedals a few more times. And then I turned on Dunn street, and saw THE hotel in the distance. The one we're staying at tonite. The goal. Within sight. My wife called again, asking where to pick me up, and I declined. "Just take the regular route into the city, I'm literally a few blocks away, I'll probably be checking in before you drive up". "They have a bikelane here!" "Love you."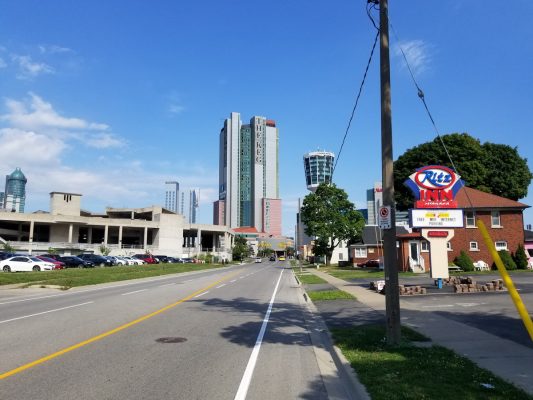 I checked in, walked outside to catch my breath, walked across the street to a bar, to get reservations for dinner, walked back to the lobby, realized that I had the helmet on the entire time, and then I got picked up. End of ride.
The mileage for the ride was 149k, but at least 6-8 kms were that stupid Thorold tunnel detour – that I could definitely do without. The evening was great (Niagara tourists need to mask up, come on, people – grow up), and it was less of a blur than the previous two attempts. I'll ride that way again – but it's time to start planning a return trip, because if we have to stay in town and go out every time – cycling is going to become a very expensive hobby.
I can't wait to go back to Merritt trail again – definitely a highlight of the route. Can't wait to have that relief wash over me when I first saw the hotel roofs from a distance. Can't wait to sit down on a patio somewhere half-way there, and chill with a cold glass of cider, before continuing the journey. Can't wait to get lost again, and improvise and try something new. It pays off to improvise.
But it's better to plan.

Did I mention that this post is sponsored by Painting Blooms – my wife's Etsy store where she sells some of her inspired paintings? I cannot guarantee she will personally deliver to your doorstep – but if it's literally on the road, and both her and I are adventuring on our own – why not a little detour, to meet in person, and make a connection. Take a look at her portfolio – some of the paintings were inspired by the plants in our garden; others – based on our travels and road trips. And select few – she was trying to re-create from her childhood memories and old photos from a place halfway around the world.
Keep biking. Keep exploring. Be prepared. Hope to see you on the trails.