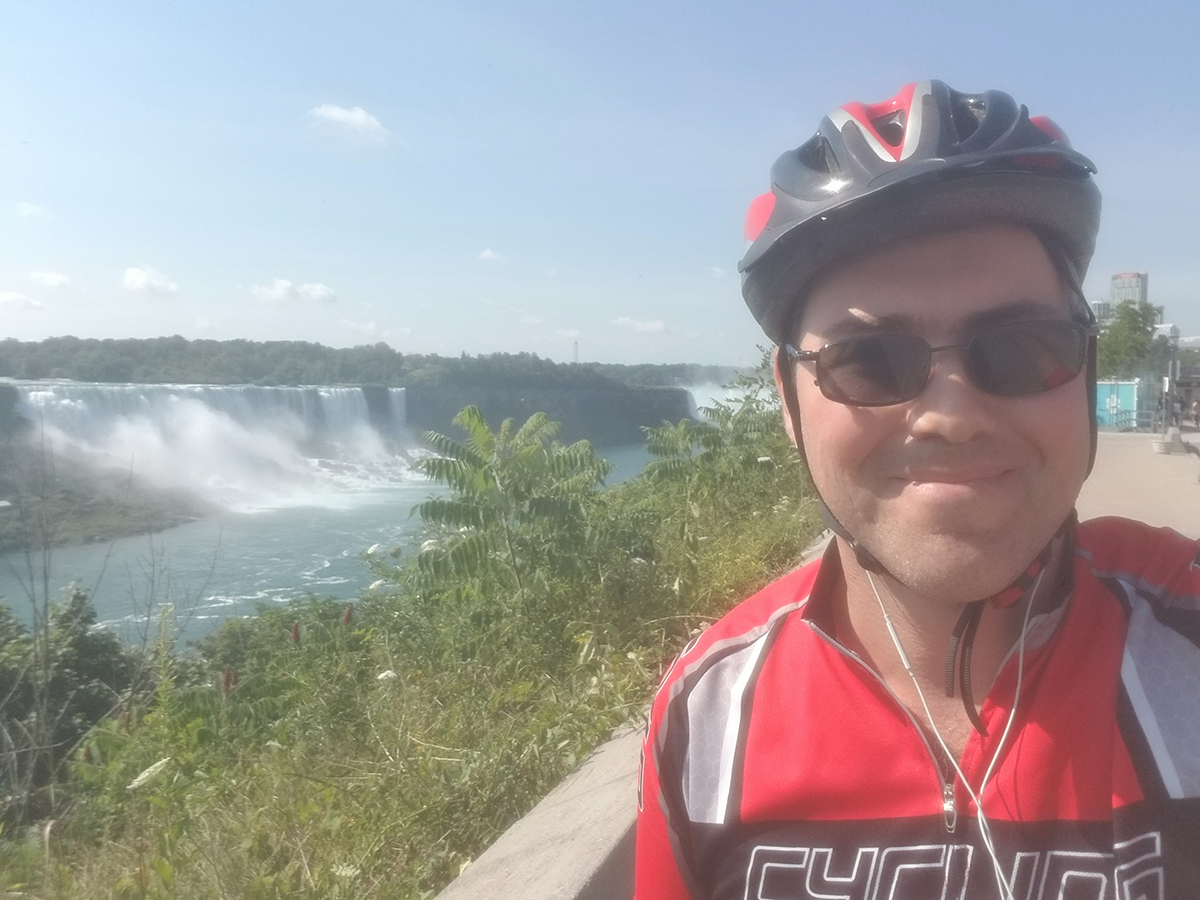 So last weekend I attempted to bike from my house (north of Toronto) to Niagara Falls. Short story – I didn't make it. Got far. Farther than ever before. But still fell short. How did this happen?
But let's rewind a little. I have been biking for a number of years, gradually increasing my routes, and difficulty levels. A few years ago I finally hit 100km in a single ride. From my home (in Maple, Ontario), to Toronto's lakeshore, a little bit around Leslie Spit (Tommy Thomson park), and back home, via East Don trails. It's a beautiful route, and the earlier I am on those trails, the fewer people there are, the more enjoyable it is. I've been going up and down that route for so long, I think fondly of it, like a distant memory from my younger past. But it's only been 7-8 summers.
Once I hit 100km, I tried to stretch it a little bit, but couldn't really go beyond 108-110km. Just couldn't get past some ceiling. Maybe the return route was a little too uphill (there is quite an elevation change between the suburbs and Toronto's lakeshore). Or maybe the fact that there are very few biking trails north of Steeles Avenue, and when I hit Richmond Hill or Aurora, I'm sharing the road with cars. It's mid-morning, or noon, the pavement is hot, and people are in a hurry to get to the malls. Or, at least, that was my biking experience until COVID19.
This year, of course, there is less road traffic, although a lot more people are on trails. BTW, I love seeing all the extra bikes, strollers, tricycles – even though some places are congested – it's still wonderful to see people take up active hobbies – please don't stop. So, after the earlier 110km peak, I started thinking – perhaps I can hit much higher than that. According to the map, the distance between Toronto and Niagara Falls is about 138km. Higher than my personal range, but certainly, I can make it, especially, since it's mainly flat, not a lot of hills, and the trail goes along the lake for the most part. So much of this formula just fell into place, and I thought: "if I can hit 110km, surely, I can stretch it to 138k and get to the falls".
Yes, the math worked. But I made a tiny mistake, and forgot a small caveat.
I live north of the city, 40km from Downtown core. Those 40k should be added to the distance in my overall estimates. And no matter how easy it is for me (nowadays) to come down to the lakeshore – it still adds up, and still eats up my energy and strength. The night before, when I checked the route again (178k, door to door), I just dismissed that chunk of the road, and thought I can hit it anyway. Friends, if you attempt to stretch 110km into 178k – that's not a stretch goal. It's a miracle, or foolish pride. Don't do it.
I woke up at 5:45am, by 6:15am I was on a bike, and then I went southbound, to the water. An extra phone battery, charger cable, extra water bottle, and a mask, of course – is all the things I took – foolishly hoping that I'll be in front of the falls in about 8-9 hours. And for the most part, everything went smoothly. I got to the Don trail quickly, disappeared into the cool, shaded greenery, and emerged on Lakeshore and Yonge st. long before 9am. Good timing. People were already filling in the bike trails, but thanks to a big part of Lakeshore being bike-only – getting westbound across the city was fast. I've been in the west-end of the city by bike a couple of times, but usually in a hurry, without much time to explore.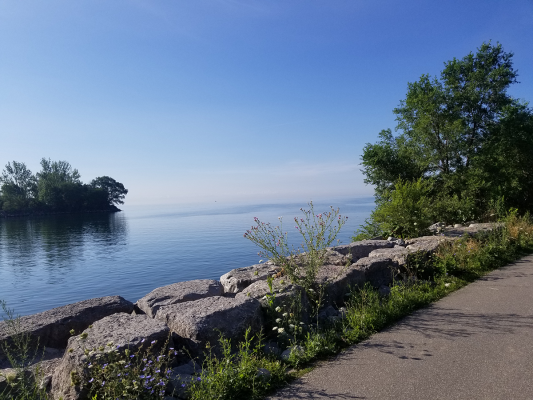 This time, I did a little exploring – the Waterfront trail is gorgeous. It just keeps going – with little parks around it, small communities, amazing front gardens. I had to slow down and admire some of these spots. And I think in a few of the parks, I stopped, just to see how different people's morning routines are – when there's so much nature next to their porch. It's gorgeous, don't ever take it for granted. Please build more parks, Toronto! You can't make more lakes, so at least give us more parks! And please build more trails like the Waterfront trail.
As I went west, around the golden horseshoe, I started to get tired. At some point I hit 60km. Point of no return. No way I can get 60km back, uphill, into suburbs. Then I hit 70km. 80km. Luckily, the trail is relatively simple and flat – you just go along Lakeshore East/West/East/West/East/West, as the same street continues from Toronto, to Oakville to Burlington. Most parks were busy, with picnics, kids, swimmers. Some parks – eerily empty. Maybe the water wasn't fresh. Treatment facility nearby? I don't know.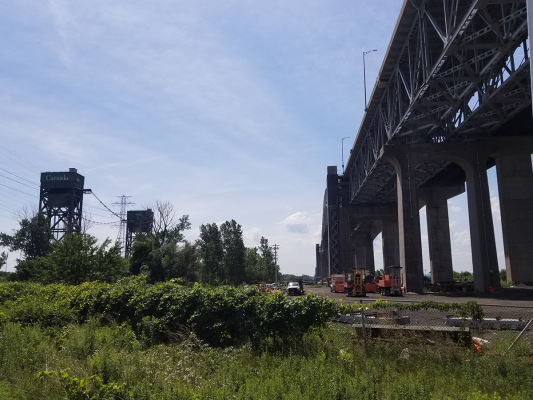 As I got into Burlington, before the famous Skybridge, I started to feel tired. The road widened, there were fewer trees, a lot less shade, and a lot more cars. I somehow managed not to get on a highway, and crossed the smaller bridge below it, and stumbled on some really clean washroom facilities. By that time I was already over 110k, and hit my new personal best distance. I was tired, a little tanned, but accomplished. Except I was in Hamilton, nowhere near Niagara Falls.
After a quick break, I continued south, past even more beaches. It was almost noon, and it was a hot, humid Saturday, with 32-33 Celsius. I knew I wouldn't reach my destination, and I also knew that anything over 110k would be a bonus. Oh, and my Plan B was already in progress. You see, I was planning to spend the night with Niagara with my wife, who was already on the highway, catching up to my location. It was just a question of how far I can continue biking parallel to QEW, before I get picked up.
And another question – in what state of heatstroke or adrenaline euphoria I will be…
Eventually, I got picked up, right around Stoney Creek. I think I was singing Band On the Run out loud at the time, on the empty North Service Road. Definitely euphoric. I hit 130km that day. I was still nowhere near the Falls. We got to the Falls, as nature intended, by car – 30 minutes later. The rest of Saturday was a blur. I remember cider. I remember ribs. I remember we stayed indoors because it was too hot, even for a dinner on the patio.
If I was smarter, I would have taken the train from suburbs into the city, and started my trek from Toronto Union station. The map is telling me it's 135k from there. If I KNOW I can do 130km, then the extra 5km would be a reasonable stretch goal. Maybe that's what I'll do next time. Maybe I'll look at the data and see the actual numbers, and not what the ego is telling me.
As of right now, I cannot do 178km in a single push, or a single day. But I think I can do it with more training, and better planning. And with less ego. And as of right now, 130 is MY number to beat.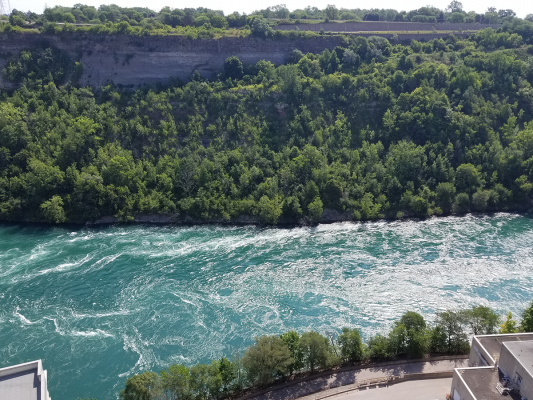 PS: As a consolation prize, for myself, I woke up Sunday morning, and had a very pleasant ride from Niagara Falls into Niagara-on-The-Lake. 24km, just over an hour, mostly downhill, and along beautiful river banks. I've driven so much up and down that road (Niagara parkway), always dreamed of biking along it. It was worth every moment. Or maybe I was still euphoric from the day before. I will definitely be back there on two wheels, and one day I will conquer QEW.
That is a promise.
And before you ask – no, the muscles didn't hurt on Saturday or Sunday. The pain caught up with me on Monday, for a few hours in the morning. Adrenaline is a natural high. It dulls all kinds of pain. Sometimes, it's useful. And sometimes, it's as blinding as ego.
Be careful out there. Be realistic. Be data-driven.
---
UPDATE: Two weeks later I attempted the same route again. This time, starting from Union station, and taking a friend along. We've biked long distances in the past, and his record was 78k. I tried to manage expectation and warn him that he'll basically be doubling that number, which is incredibly difficult without proper training. But, he wanted to come along, and he really wanted to see the trail, and to try a 'one-way trip' experience.
So off we went. Same route, along Lakeshore, right next to the water. We got further, much further that Saturday – and eventually were picked up around St. Catherines. Still, it wasn't quite Niagara, but definitely closer to our goal. We did 122k that day – a huge personal record for my friend, a bit of a setback for me. We took our time, exploring some of the small condo projects along the shore, between Hamilton and Jordan. We saw a beautiful rose bush farm, right off the QEW – that's not seen from the highway, but the fragrance, the amount of color in that field – no photo can do it justice. And we kept each other in check, not racing, not trying to hit any milestones – just cycling along the lake, and later – along the fields of corn, peaches, sunflowers, and more corn. It's not Niagara until you start seeing grape vines.
It's true what they say: "if you want to go fast, go alone; if you want to go far, go with friends." Technically, we covered a shorter distance, but we got so much closer to our goal, and we got to see so many hidden gems that we usually zoom by when we're driving. Southern Ontario is full of gems. Yours to discover. We'll bike together again soon – he is even more determined to get to Niagara – but the next ride, two weeks later – I took on my own.
Up next.