Hello, friends. This is my dad (68 years old), participating in Bike for Brain Health a couple of weeks ago. For those not living in Toronto, the two massive structures in the background are Sky Dome (Rogers Centre) and the base of CN Tower. The road where we biked – Gardiner Expressway, and it's usually packed with cars, 24/7/365…
Except once a year this highway is closed to vehicles for half a day, and there's a cycling race taking place instead. Usually this event comes with a health cause for donations/fundraising. A local hospital or a research centre.
I've been doing this race for a number of years (skipped last few due to Covid closures). This year – I went with my dad. We both prepped for it, were aiming to do the 25k route, but ended up doing 50k. We just needed to see the entire route, and observe the city at a slower pace than 80kph.
It was a wonderful day for an outdoor event – great weather, lots of cyclists of all shapes, ages and colors, lots of support from organizers and onlookers, live music, even some singing…
Just before the finish line, dad turned to me and said it was his dream to join the race, and see it first-hand. We both live in the suburbs, and while I often bike down from Maple to Toronto's lakefront, my dad is never in downtown core on two wheels… So for him, it was an eye-opening experience in many ways. The views he only saw as a motorist – were available to him as a cyclist.
The views…
Something tells me he'll be biking those routes again very soon. Maybe I'll get him to take a dip at Cherry beach one weekend, without any car keys in sight (Go Train + BikeShare). It's possible. I've done it. Some of you have done it.
Why am I sharing this with you? Because change is possible at any age, from any comfort level – with the right motivation. My dad biked before, but never long distances, and definitely never in areas where he could just drive to, with more convenience. Besides, why go downtown when we have plenty of country roads up here, in the suburbs?.. But now he wants to do the race again next year. Suburbia is embracing cycling – as challenging as it may be given little local infrastructure.
But beyond setting personal goals, tracking, training, and maintaining those habits – it also takes initiative from the government. This race is costly, and the logistics of closing and opening major highways – even on a weekend – are complex. So as long as the city (and other levels of government) keep investing into these events, and genuinely supporting them – I'll show up. And based on the crowds I've seen over the years – many other people will show up as well. And I'm not just talking about this single event. I have been seeing more cyclists along East and West Don trails – more and more each year. The public demand is there – we just need to keep the momentum and get the city to keep building up those trails, bike stations, bike lanes, signage – we are not going back to cars.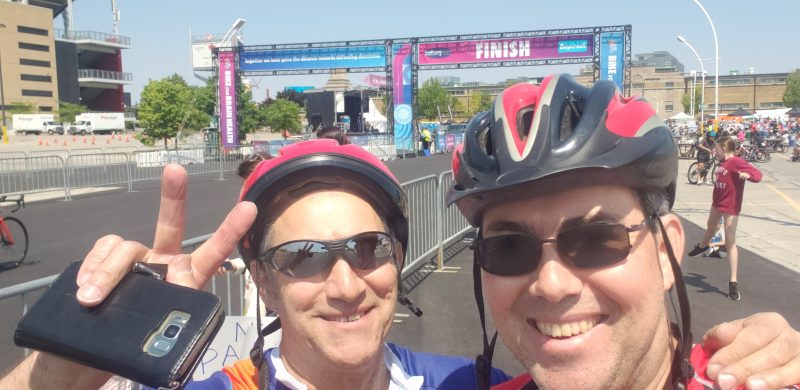 Thanks, Dad – for continuing to surprise me, and going out of your comfort zone – you certainly don't have to do that anymore.
Thanks, City of Toronto – you have made great steps towards integrating cycling culture into your infrastructure – especially in the last few years. And there's so much more to be done. Vote wisely, Torontonians.
Thanks, my friends, co-workers, and co-linkers for donating and supporting my fundraising efforts.
You all have made my dad's dream come true with that race.
Me? I just like to bike along a highway and to see no cars. Somehow, the city did not collapse into disarray. We need more days like that. We need more routes like that.
PS: Yes, I do own a car, but when possible, I try to get around via transit and bike. It's a lot easier with TTC Vaughan subway extension and GO trains – but we can do a lot better, so more motorists can comfortably choose to bike.