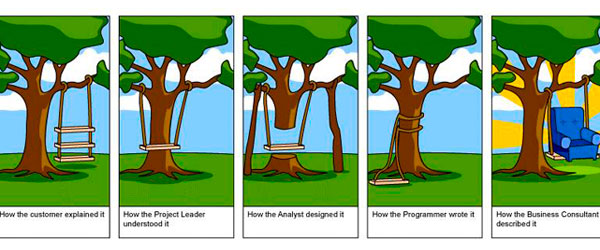 You've probably seen this cartoon before (if not, just google it), and if you have – it made you chuckle. Now how many will admit being involved with such challenging projects (web or otherwise)? How many will admit to managing (or rather, mis-managing) something that resembles the above? I hope a few hands are still raised in the air. It's not fun to inherit such a project, and even less fun to do the clean-up afterwards. But I assume we've all done it.
So is there a better way? Are you better off with an expensive, experienced project manager running a part of your business, and planning/costing/spec'ing the various initiatives, or should you rely more on software/tools that take the guesswork out, can plan/estimate more accurately, and will cost you less? The answer is not as obvious – the human element is necessary, but might prove costly, whereas an application will take into account a lot of things and will predict your projects more accurately, but still will not be prepared for unusual circumstances.
Project-management software has evolved from elaborate Excel (and Visio) charts to actual Microsoft Project application. The reality is that many project managers are still stuck using Excel and Visio charts. Performing manual tasks that are better off automated. Learning curve? Subordinates/team members not trained to use the 'fancy programs'? Don't know, but I see my share of projects managed almost entirely in an excel document almost every week. It's got nice printing options, and the color-coding is great, but the document only tells you what you want to see. Excel is perfect for that. It will also calculate/estimate only what you want it to count. Powerful, but biased.
On the other hand, there's a vast choice in other project-management tools, and they evolve all the time. Web-based, email-operated, real-time tools that quickly and accurately help you plan, cost and deliver projects. But here's the inherent conflict. What self- respecting project manager would use such an elaborate tool openly and completely, if these programs can easily replace the said project manager? Or is there really a fine balance between a necessary human element and trusted, accurate calculations of an algorithm.
It's an open-ended question, really.