Welcome to Web-Pros.ca! You're probably here because you saw a car licence plate with our name on it: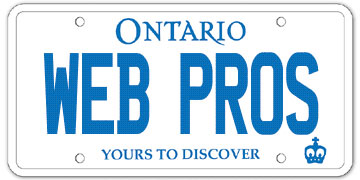 It's all in the name, really – 'web pros' is who we are and what we do; '.ca' is where we are located. Some may think it's tacky to use custom plates for business, but we disagree. We find it to be an effective, inexpensive, unusual method of exposure and advertising. Consider this: the web (and all it can do) has become so ubiquitous, so omnipresent that it makes little sense to advertise web services using traditional methods. Instead, we decided to simply state what we do, for everyone to see.
The web has also become accessible to all. There is always information that you can find useful, tools that will simplify your life, communities that share your interests, and yes – even ways to make you money. All of it is available to anyone and everyone with an internet connection.
So what will it be today, Visitor? What do you want to do online with your web properties? A corporate site with a marketing campaign? A new site with a lively community? A portal with useful content you want to publish and share with the world? An online store, selling your products to more people, cutting your costs, and reaching more places? Perhaps all of the above? Or, maybe you already have a site, a presence, and are wondering if you can improve it, make it more prominent or cheaper to run, or more effective?
You've come to the right place. Browse some of our sections, find out what we've done in the past, and what we're up to these days. Ignore some blank pages (we're always revamping our site, time permitting), and send us a note if you're interested in any of our services.
- the team